Panchin Sönam Drag-pa (1478-1554) :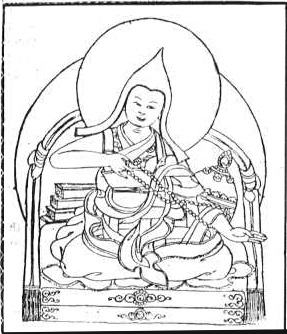 Maha Pandita Sönam Drag-pa was a renowned literary figure of the fifteenth century in Tibet, who wrote a number of works on sutra, Tantra and history. He was born at Tsethang, south of Lhasa, into the family of the Nangbar Lamba in the year of 1478. At an early age, he received the name of Sönam Drag-pa. Thereafter, he moved to the monastery of Yasang, in south Tibet where he studied for many years. He took his vows from Choeje Sanggyay Sangpo of Odyne, and Rinchen Chösang; first as a novice and then as a fully ordained monk.
With great diligence and patience, he applied himself to the task of mastering the vast Buddhist literature, consisting of all texts of the great Indian Pandits.
His studies were under the guidance of Yongdzin Donyod Palden for twelve years, at the famous Sera Monastic University. He also received various oral teachings. And, after becoming fully versed in scripture and logic, he sat for the examination of dialectic disputation at Tsethang Monastery. Before an august assembly of scholars he received the coveted degree of Rabjampa, later popularly known as Geshe.
Panchen Sönam Dragpa had five principle teachers in the course of his studies. They were: Yongzin Donyod Palden, Laechen Kunga Gyaltsen - an authority on the Kadampa tradition, Choeden Lodroe the abbot of Gyuto Tantric College, Khetsun Yonten Gyatso and Lharinba. These last two were widely acclaimed as fully realised practitioners. Panchin Sönam Drag-pa also had several other eminent teachers, including Gedun Gyatso, the Second Dalai Lama.
In addition, during different stages of his life, he studied and mastered the vast literature of Buddhist philosophy and received initiations into Vajrayana practice and teachings on the development and completion stages of the profound Tantra path. He, practised rites of a pantheon of meditation deities and protectors of the Dharma. He saw Amitayus, the Sixteen Arhats, Demchok Yeshe Korlo, Tara, Kurukulla.
Chaedan Lodroe, the abbot of the Gyuto Tantric College, willed that after his death Sönam Drag-pa should take over the academic and administrative responsibility of the college; imparting lessons, performing tantric practices, and presiding over, the rites. At 34, he became the abbot of Gyuto college. Being a master of Guyhasamaja he emparted the teaching and built a temple. This he faithfully did for fourteen years, during which time he accomplished many impressive achievements. Thereafter, following the instruction of Gedun Gyatso, the second Dalai Lama, he took over the post of abbot in the Loseling College of Drepung Monastic University. He wrote comentaries for Drepung Loseling and clearly explained generation and completion stages of Guhyasamaja there.
He remained there as abbot for six years, at which time he engaged in both teaching and the administration. It was during his period as abbot that the term of this office was fixed at six years, a tradition that still continues to this day. Following his abbotship, Sönam Drag-pa was enthroned at Gaden Monastic University, as the Gaden Tripa when he was fifty-two. At Gaden he continued to give teachings and guidance to thousands of monks, constructed many new objects of veneration and rebuilt several places of pilgrimage. In his exalted capacity as the Gaden Tri Rinpoche (throne Holder of Je-Rinpoche) for a period of seven years, he left to posterity a succession of glittering accomplishments. He then devoted himself to periods of meditation, sermons, and discourses. However on the death of Gedun Gyatso, the second Dalai Lama, and in response to widespread appeal from the monks, the chief of Neethong and other benefactors; he again took abbotship of Drepung Monastic University.
He agreed to do so until the next reincarnation of Gedun Gyatso was found. During his abbotship, several reforms were brought about, monastic discipline was tightened and improvements were made in the norms of spiritual practice. At the same time, at their special request, he took under his patronage the monasteries of Kyormolung and Sera. In due course he also took charge of several smaller monasteries, namely Phagmo Choede Nyeding, and Rinchen Ling.
Meanwhile, for the welfare of the holy teaching and all sentient beings, the reincarnaion of Gedun Gyatso had already taken place. Sönam Drag-pa gave the newly reincarnated child his initial ordination, when four years old and gave him the name Sönam Gyatso, the third Dalai Lama and also became the tutor for Sönam Gyatso, when the child took his novice vows at the age of seven. When Sönam Gyatso reached age ten, Sönam Drag-pa handed over to him the guardianship of Drepung Monastic University. Sönam Gyatso came to be famous in Mongolia, he enlarged monasteries such as Kum Bum, went to Janba-ling Gerten Litany and many places in Kham. On occasions he made rounds of the monasteries of Sera and Kyormolung, delivering sermons and discourses and composing new works of scriptural writings. Having led an exemplary life, he died in the year 1554. At death, he meditated for 15 days. Relics and letters AH were emitted from his body. At cremation his tongue, eyes, heart being (speech, body, mind) were not destroyed. Drepung made a silver stupa and a copper-gold Chenrezig statue for his relics and placed it in Zen Khong Goon at Drepung.
Sönam Drag-pa devoted a lifetime of selfless service to the interest of human happiness and the holy Dharma. He was truly a teacher of men, having lived up to the three ideals of a wise scholar: imparting teachings, engaging in learned disputions and producing new works such as a history of Tibet; Gaden Shartse and comentaries of Tsong Khapa, Khedrup-Je and Gyeltsab-Je. Living up to these three ideals constitutes the essence of a meaningful life. His students were everywhere Ladakh, Tibet, China and Mongolia. He left behind a rich heritage of enlightened writings.
Listed below are the titles of all available and unavailable works authored by him.
1.PHARCHIN TSATRIK TSIGDON RABSAL
2.PHARCHIN CHIDON YUMDON SALWAE DRÖNME
3.PHARCIN THACHOD YUMDON YANGSAL DRÖNME
4.NAMDREL GYI KADREL GONGPA RABSAL
5.DULWAE CHIDEN LUNG RIG NYIMA
6.ZOD KYI CHIDON SHEJA RABSAL
7.GYUD LAMAE SHUNGDREL
8.U-MAE CHIDON RABDON SALWAE DRÖNME
9.U-MAE THACHOD SABDON YANGSAL DRÖNME
10.KADAM SARNYING GI CHOEJUNG YIDKYI ZEEGYAN
11.DRANG NGEE LEGSHAE NYINGPOE THACHOD UTPALAETRENG
12.LEGSHAE NYINGPOEYI KANAE DOGCHOD
13.DOMSUM NAMSHAG (short and longer versions)
14.JANGCHUB SHUNGLAM GYI DONDU
15.GYUDDE CHIYI NAMSHAG
16.PAL SANGWA DUEPAY ZUBTRI
17.SANGDUE KYERIM KHAEPAY YITROG
18.SANGDUE ZOGRIM THARLAM DRÖNME
19.CHOEPAE SURKHOL-NYI
20.CHAG-GYA CHENPO LA GYAN DRUG-TU DZAEPAE NAMSHAD
21.NAROE CHOEDRUG GI TRI
22.SANG-NGAG GI CHOE TRI
23.NYINPO DON SUM GYI TRI
24.TATRI DRENPA SHIDEN GYI TRI
25.TSEPAG MEE KYI DRUBTHAB
26.DROLKAR GYI DRUBTHAB
27.RIGJEMAY DRUBTHAB
28.DULWAY DUTSIG
29.DRUBTHAY NAMSHAG
30.JE GENDUN GYATSOE NAMTHAR PHENDEE JUNGNAS
31.GYALRAB TRUL GYI DEMIG (DEBTHER MARPOE DEBSARMA)
32.GEDEN LEGSHAE
33.TENTSIG RINCHEN TRENGWA (SALWAE DRÖNME)
34.KADAM LEGBAM GYI DONDU
35.TSE TRI GYUD PAY SOLDEB
36.CHOSYUL GYUD PAY SOLDEB
37.KARMA PAY PHARCHIN TIKAY KARDEN
38.DE YI YANGLAN
39.LO RIG
40.TAG RIG
41.TEN DREL
42.SAMSUG
43.GEDUN NYISHU
44.DONDUNCHU NAMSHAG KALSANG THEMKAE
45.DULWAY CHOJUNG
Panchen Sönam Drag-pa is also credited with a number of minor works, mostly of religious songs. He composed the following metrical verse when he was enthroned as Gaden Tri Rinpoche.
Choekyi Gyalpo Tsongkha Pay
May all conducive conditions be,
Choetsul Nampar Phelwa La
And all obstacles pacified.
Gegkyen Tsama Shiwa Dang
In order to increase infinitely,
Thunkyen Malus Tsang War Shog
The doctrine of the spiritual king Tsongkhapa
At another time, when he was the abbot of Drepung, presiding over the annual Great Prayer Festival, he composed another verse :
Dag Dang Shangyi Dusum Dang
By the merits of the three times,
Drelway Tsognyis La Tennas
Of myself and others.
Gyalwa Losang Dragpa Yi
May the doctrine of Lama Tsongkapa
Tenpa Yunring Bargyul Chig
Blaze forever.
The popularity of these two verses spread like the wind through all monasteries of the Gelug school of Tibetan Buddhism, and still persists to this day.
Chronological events of Sönam DRAGPA'S life
1478. Birth
1493. Enters Sera Monastery
1508. Begins study under the tutelage of Choeden Lodro, abbot of Gyudtod Tantric College.
1511. Becomes head of Gyuto Tantric College.
1513. Composes the work Sangwa-Dupay Kyezoy Nyiki Tricchen.
1524. Becomes abbot of Drepung Loseling College.
1525. Composes Pharchin Chidon Yumdon Salway Drönme.
1528. Composes U-may Chidon Zabdon Salway Drönme.
1529. Assumes the office of Gaden Tri-Rinpoche.
Composes Kadam Sar-Nyinggi Choejung Yidkyi-zegyen.
1530. Composes Dulway Namshay Lungrig Nyima.
1531. Composes Jugpay Thachod Sabdon Yangsal Drönme.
1533. Composes Zoekyi Chidon Sheja-Rabsal.
1534. Composes Taema Namdrel-gyi Kadrel Gongpa-Rabsal.
1542. Composes Dulway Duetsig. Death of Gedun Gyatso,
the second Dalai Lama.
1543. Assumes the abbotship of Drepung (birth of Sönam Gyatso, the
3rd Dalai Lama).
1546. Ordains Sönam Gyatso.
1549. Officiates as Khenpo during the Novice Ordination of Sönam
Gyatso.
1550. Composes Dulway Choejung.
1552. Hands over Drepung to Sönam Gyatso and retires.
1554. Dies at age of seventy seven (Sönam Gyatso was then twelve
years old).
(Ref.: L.T. Doboom -- Dreloma: Drepung Loseling Magazine. 80/4 -- p. 17-20)